For the first time in the tour's eight-year history, nearly a dozen locations across the Austin neighborhood will be featured at the Open House Chicago October 13-14, and residents look forward to showing off often-overlooked gems.
Open House Chicago, hosted by the Chicago Architecture Center, is one of the largest architecture festivals in the world and offers the public the opportunity to visit over 250 locations in 30 districts. Morgan Park and Beverly join Austin this year as well.
Eric Rogers, manager of Open House Chicago, said Austin was an obvious addition to the tour given that it's such a large community with lots of places of interest. Other West Side neighborhoods like Oak Park and Garfield Park have received large numbers of visitors in recent years, so Rogers knew visitors would be ready to go to Austin too.
While brainstorming for locations in Austin, Roger said that a list of about 35 potential locations was created without scratching the surface of the neighborhood's various industrial locations. He said neighborhoods, which often receive negative attention, can give people a positive firsthand experience of an area that may contradict their previous beliefs.
"It has the power to really change the perception of people who are not alive [a] Neighborhood like Austin to get out of there and see the friendly people and beautiful architecture, "said Rogers.
Serethea Reid, executive director of Redevelopment Management Resource Inc., said the architecture tour has the power to change how visitors think about Austin.
"One of the characteristics of Austin is its architecture, and people don't look at these beautiful buildings because of these other things they've heard about Austin," Reid said. "Austin has so much to offer in terms of architecture. This helps people see the other sides of Austin that they haven't heard about as much. "
RMR Inc., a nonprofit dedicated to developing revitalization tools for nonprofits, is hosting an event showcasing local artist Shirley Hudson at Third Unitarian Church, 301 N. Mayfield Ave., on October 13th locations . A meeting will be held at the event to plan future art events.
Father Dimitrios Burikas, associate pastor of the Greek Orthodox Church of the Assumption, 601 S. Central Ave., has often said the press on Austin focuses on violence and crime, which can create negative connotations for people who have never visited the neighborhood . So it's refreshing to see the community in a positive spotlight, he said.
Burikas said he looked forward to sharing information about his ward and church history. The church was originally founded on the same site as it is today in 1878. A small makeshift church was originally built until the late 1930s when Greek immigrants raised enough money to build the church in its current form, Burikas said.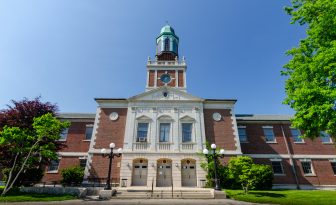 "Chances are, a lot of people first come to Austin to see all the beautiful buildings and all the things that are going on here that are good," said Burikas. "Hopefully this will have a positive effect on this neighborhood."
The other Austin locations featured on this year's tour are:
Austin Community Family Center, 501 N. Central Ave.
Austin City Hall Cultural Center, 5610 W. Lake Ave.
From the Hand Club for Children, 415 N. Laramie Ave.
Catalyst Circle Rock Charter School, 5608 S. Washington Blvd.
Catholic Charities Father Augustus Tolton Peace Center, 5645 W. Corcoran Place
Fraternite Notre Dame Church, 502 N. Central Ave.
The Loretto Hospital, 645 S. Central Ave.
Peace Corner Youth Center, 5022 W. Madison St.
St. Martin's Episcopal Church, 5710 W Midway Park
Locations in Austin will be included in future festivals, according to Rogers, and the number of locations in the neighborhood is expected to increase.