When you get to Austin there may also be a sign that says, "Must Love Dogs." Our four-legged friends are the town's unofficial mascots, and we hate leaving their cute little faces at home. Our morning walks get better with a swinging tail, our nights are a little happier with a pooch to pet, and we are a little proud when our adorable animal gets all the attention. We even have a dog restaurant week. Given that we have the most dog-friendly restaurants per capita, it's almost impossible to make a list of the most dog-friendly – and yet we made it. Here are some of our favorite places to get Fido out for a night on the town.
Cosmic coffee + beer garden
South Austin
It's almost hard to believe that Cosmic Coffee pegs it on so many fronts. The caffeine is great, the cocktails are juicy, the outside is foggy, and the inside is comfortable. The on-site food trucks – Leroy and Lewis, Tommy Want Wingy and Pueblo Viejo – serve delicious snacks and main courses to pair with your frozen drink in the summer. There's plenty of seating, kid-friendly, and blazing fire pits in the winter. Best of all, dogs are welcome inside and out, and there's a furry, snuggly puddle of epic proportions here every weekend.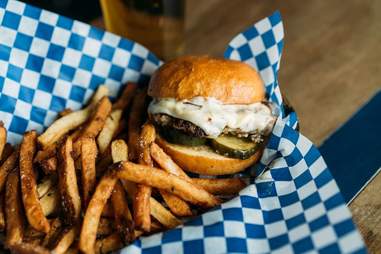 The Cavalier ATX
East Austin
Having a dog takes a lot of care, maintenance, and money. But what if your dog could work for you? Cavalier turned the script upside down with their ingenious puppy payroll program. Write your dog's name and your Instagram handle on a punch card. Every time you visit, ask the bartender to log your dog in. Repeat visits will give you free things like a free snack, cocktail, or beer. The "clock" starts over at the beginning of the month. They also offer a small pooch prize package as well as a behind the bar photo for the dog that shows up the most. Two covered patios, free treats for your pet, and an all-day dog ​​policy make it easy to show yourself off to "work".
Cherry wood
Batch Craft Beer + Kolaches have carved out a nice niche for themselves in this fun little area around Manor Road. Their creative kolaches are made fresh every day, some of which include delicious sausages from Micklethwait Craft Meats. The drink selection is also superb, with draft beer and wine, plus a glass-fronted cooler and additional artisanal choices to help yourself to. For those looking to catch a breeze, the patio area beckons with picnic benches and plenty of shade, as well as a large natural area for your four-footed friend to frolic.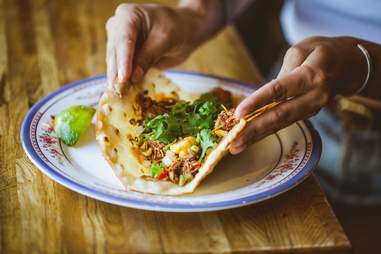 Sour duck market
East Austin
The spacious room, the Sour Duck Market, exudes casual charm with lots of warm wood and hanging greenery. This fully stocked bakery, cafe, bar and restaurant support local farms and producers and host a weekly farmers market on Wednesdays from 4pm to 7pm. If food is what you are looking for (and of course) the menu ranges from fun snacks like tater tots with devilish eidip to a fried / smoked half chicken. Sour Duck offers frosty beers, draft cocktails, and wine, plus an all-day happy hour on Mondays. Browse a pork sando or portabella cold cut sandwich during happy hour for $ 5 while your lovely pooch takes advantage of the water and goodies outside.
South Austin
This recently opened, IPA-centric (but not exclusive) brewery makes it easy to spend your Saturday enjoying beer with the best bud. Founded by two brothers with a penchant for travel (hence the name), Nomadic produces a variety of inventive beers that spin through the taps, like the Call Me Sir – a blackberry and orange blossom sour – and the raspberry milkshake IPA . If you're part of the nomad digital set, this is a good place to enjoy a cold draft nitro brew, a morning cookie, and solid WiFi. There's also a food truck on-site, Kimchi Jon's, which serves Korean street food almost every day and late on Friday and Saturday.
Fresa – south first
South first
When Fresa was Freddies it was a major attraction for people hanging out with their pups. All dog lovers were relieved that Fresa kept the massive, dog-friendly patio when they took over the space. Family dishes make this a good place to share queso, guacamole, and plates of grilled chicken, rice, beans, and inventive vegetable dishes. We also love that they have happy hour prices all day, every day for guests sitting at the bar and their prickly pear margarita is so good you should have two. Dogs are only allowed on the patio (you know, because they cause food), but you can calm them down with a treat.
Home slice pizza
South Congress, Nordschleife
Austin's most popular original pizza shop doubled the space on the terrace of his puppies with its second location on the Nordschleife. Both courtyards also have fog for those triple-digit days (of which there doesn't seem to be a shortage of lately), and the north facing location also has a fenced, turf play area for kids if you're out with the family. Pop in for a drink and cake, or hang out with your dog longer to enjoy a nice plate of antipasto, a stacked submarine, or the secret menu item The Vatican: it's a submarine wrapped in a calzone.
Cherry wood
Stepping into the Vortex, with its butterfly bar and Patrizi's Italian food truck, is like stepping back into old Austin. This theater / bar anchored Manor Road before anything else showed up in the area. Fairy lights on the terrace and a small stage set the scene, while mismatched tables and chairs and a large terrace offer plenty of seating to enjoy a cocktail (or a carafe of sangria) with deliciously truffle popcorn or homemade pasta from Patrizi. Keep an eye on the calendar for quiz nights, movies, and special shows.
Doc B's Restaurant + Bar
North Austin
It's funny just using The Domain as a location (instead of going to a specific location), but the reality is that there are so many dog-positive locations here that it would obviously be unfair to play favorites. You can take an open air stroll in a mall / residential neighborhood, have dogs in tow, and stop by so many shops, bars and restaurants. Have tea in The Steeping Room, indulge in brunch at Doc B's, enjoy tacos at Gloria's, sip a frosty beer at Yard House, or head to Shake Shack for a special woof menu with a pooch Ini and a bag o 'to enjoy. Bone.
Revel on the boulevard
East 6th, North Lamar
Both iterations of Revelry – the original version on the east side and the newer spot in North Lamar – are very fond of dogs. In fact, these places are so dog-friendly that they even have an entirely separate Instagram called Pups of Revelry (which you should definitely follow). They attended Dog Restaurant Week, but aside from a few homemade treats, Revelry caters mostly to people with elevated pub food like smoked salmon carpaccio, crispy wings with honey sriracha glaze, and burgers with an Akaushi beef patty. There are also lunch combinations every day that totally steal.
Southern Congress
Take the Rover through the entire South Congress Hotel complex. Treat yourself to a coffee or juice in Mañana and enjoy it on the terrace or in the comfortably air-conditioned lounge. Stay for lunch or brunch at Café No Sé, which has treats and water bowls for your pup on the terrace (and get a 25% discount on rosé bottles from sunrise to sunset). If none of that sounds like a plan, opt for a simple happy hour in the Lobby Bar, where you can enjoy everything for half price (including wine, beer, cocktails, and snacks) from 5pm to 7pm on weekdays.
South first
El Mercado South has a wealth of attractions … the Backstage has live music almost daily, the $ 4.50 margaritas make for a great happy hour, and the menu is serious OG Austin Tex-Mex. So it's a total bonus that El Mercado South also has two dog-friendly courtyards and a play area – there's even a Yappy Hour with free dog treats and an additional menu (available upon request) that you can order for yours hungry dog. Every El Mercado has different specials and parameters. So be sure to call before you set off.
The Buzz Mill
River bank
The 24-hour buzz mill with its strong influences "Hut in the forest" is a mashup of lumberjack, bar, café and café. Enjoy a coffee, cocktail, kombucha or craft beer in the rustic setting, and when the weather is nice, the terrace is full of puppies. The Lil 'Nonna's, Plow Burger, and 1776 Cheesesteak Co food trucks are all excellent on-site options and (somewhat surprisingly) mostly vegan. Come here to chat with friends, check out free WiFi, or check out the Lumber Society Survival Series, where you can learn everything from navigation to knife carving.
The Git Out
South Austin
A dog in the logo is a pretty good indicator that a place is dog-friendly – and The Git Out's sign certainly bears a resemblance to co-owner Nate Kinney's dog. Accordingly, their terrace is open to dog companions who are filled with free treats and water bowls. This zero-waste addition to South Austin feels like it's been there forever, and they have worked masterfully to turn a new building into something that feels familiar. The Git Out serves hearty cocktails with comfort dishes like "pork popcorn" – pork nuggets with chipotle ranch – or trash fries (waffle fries with almost anything you could want).
Luster Pearl East
East Austin
Sometimes part of the problem with a puppy-friendly patio is a lack of space. Like humans, dogs aren't really interested in being overcrowded with someone else's fur in their business. Fortunately, that's not a problem at Luster Pearl East, where the huge outdoor area has bar games, benches, high ceilings, and a small dog play area (plus a few fans to keep everyone cool). The covered terrace inside also offers dogs a cooler experience. The bar serves stiff drinks and solid pub fare. Be sure to try the wings.
Sign up here for our daily email to Austin and be the first to get the food / drink / fun in town.
Kelly Stocker is a contributor for Thrillist.